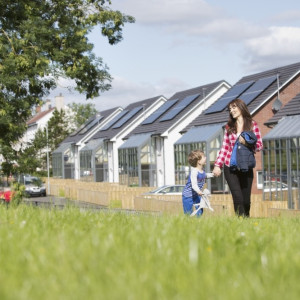 Wheatley Group today announced a major £100 million sustainable loan agreement with four of the UK's leading financial services organisations.
The housing, care and property management group has agreed a £50million revolving credit facility with existing lenders Royal Bank of Scotland, Bank of Scotland and Nationwide Building Society, as well as a loan of £50million from new lender, Barclays.
The facilities will support Wheatley's new build program and help the group continue its mission of ending homelessness with a minimum of 50% of available rental housing offered to homeless households.
---
---
In addition, the group will strengthen support for its customers, in some of the most disadvantaged communities, towards the pursuit of studies, with at least 50 people benefiting each year from a scholarship.
Steven Henderson, Group Chief Financial Officer, Wheatley Group, said: "We are delighted to announce today new loans to four of the UK's largest financial services providers. It's a further sign of the confidence they have in the Wheatley Group and our plans to make a real and lasting difference to communities and tenants.
"The new funding will allow us to build more much-needed affordable housing, help us address homelessness in our neighborhoods and also give our tenants the opportunity to get the best start in life.
The four lenders involved in environmental, social and governance (ESG) financing believe the money will help Wheatley deliver a more sustainable future for communities.
---
---
Melanie Russell, Regional Housing Manager at Bank of Scotland, said: "Wheatley understands the responsibilities that come with being one of the country's largest housing providers and has set out a strategy and plan to deliver sustainable housing for all. We are proud to have acted as ESG coordinator on behalf of its lenders as Wheatley seeks to drive a more sustainable future for Scottish communities.
Bank of Scotland is part of Lloyds Banking Group, whose vision is to enable affordable, quality and sustainable housing that meets the UK's long-term needs, while making finance a force for good. Lloyds Banking Group provided £3.4bn of new funding to the sector in 2021, of which £2.4bn was ESG-related, enabling the sector to build, upgrade and regenerate.
Alan Newlands, Director of Housing Finance at Royal Bank of Scotland, said: "We are proud to have enabled enhanced funding for Wheatley Housing Group as it embarks on an ambitious new development pipeline, with the Royal Bank of Scotland acting as banking agent and lead arranger for increased funding commitments.
"As part of our role as lead arranger, we have worked with the ESG coordinator and syndicated lenders, which has resulted in an additional flexible funding of £50m secured by Wheatley, which will be used to advance a sustainable, people-focused agenda, including delivering up to 4,000 low-carbon homes over the next five years.
---
---
"Our knowledge and experience in the housing sector is renowned, having supported Wheatley's ambitious sustainable finance framework last year. It has been very rewarding to work with the team again to accelerate Wheatley's primary goal of improving homes and lives across Scotland. We look forward to continuing our relationship as Wheatley fulfills its role as a force for good in the communities in which it operates.
Heidi Billington, Director of Housing Finance and Public Sector Lending at Nationwide Building Society, said: "As the largest building society in the world, Nationwide exists to ensure that everyone has a place to call home. This same social purpose has underpinned Wheatley's approach to supporting its tenants, having been at the forefront of the sector in Scotland since its inception in 2003.
"As the leading social housing lender since the 1950s, Nationwide is proud to have supported Wheatley and its tenants across Scotland, working in a spirit of mutuality to achieve more together than we can alone. .
"Nationwide is committed to supporting the greening of homes in the UK and this first sustainably linked loan helping Wheatley to make thousands of homes across Scotland more energy efficient, is a key step in that journey."
---
---
Alison Gray, Head of Public Sector Debt Finance at Barclays, said: "Our £50 million sustainability-linked revolving credit facility for Wheatley Housing Group will support the provision of affordable, energy-efficient housing in Scotland. . Improving the energy efficiency of the country's housing stock is a crucial part of the journey to net zero and Barclays is committed to supporting this important work.
"Our dedicated public sector team provided a financing solution that links Wheatley's finances and its sustainability performance, driving progress and lowering the cost of borrowing. As Scotland's leading provider of social housing, this agreement will allow Wheatley to continue to play its vital role in providing housing for local communities in Scotland.
---