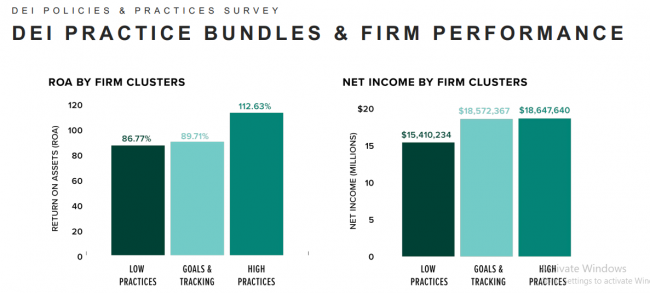 The similarities between the results of the Filene Research Institute's first and second annual DEI Practices and Policies Survey confirmed that the results of its 2021 research – which found a strong link between diversity efforts, d credit union's equity and inclusion and financial performance — weren't just a fluke, the Madison, Wisconsin-based think tank said during a webinar on Tuesday.
In the webinar, "Effectiveness of DEI in Driving Organizational Change: DEI Survey Read-Out," Dr. Quinetta Roberson, Professor of Management and Psychology at the University of Michigan and Filene Scholar, presented preliminary findings from practices and policies Filene's DEI 2022 survey, which Filene says is the only research of its kind to be conducted so far in the credit union industry. Full results will be presented at Filene's big.bright.minds. conference, a hybrid event scheduled for October 25-26 online and in Denver.
Consistent with last year's trends, research found that credit unions focusing their DEI efforts in the following three areas had the largest impacts on their bottom line: Strategy, which includes actions such as hiring a diversity director, appointing a DEI committee, and implementing a written DEI policy and strategic plan; targets, which encompasses setting targets resulting from DEI-related efforts, such as hiring underrepresented people; and monitoring, which refers to collecting data as the credit union works toward its goals.
And as they did last year, the researchers measured financial performance by grouping credit unions into three groups: credit unions without DEI practices, credit unions with tactical DEI practices (high levels monitoring and targets and low levels of strategic practices) and credit unions. with strategic and tactical DEI practices.
They found that when comparing the return on assets (ROA) of credit unions in each of the three groups, those that had no practices and tactics performed similarly (with 86.77% and 89.71 % average ROA, respectively), while credit unions with strategy and tactical practices recorded an average ROA of 112.63%. "It was higher out of the three [practices] it really drove return on assets, which means that by putting these practices in place, credit unions were able to extract more value from their assets," Roberson said.
Comparing the net income of credit unions in each of the three groups, it was found that credit unions with tactical practices and credit unions with strategic and tactical practices saw little difference in their results, the first group with an average net income of $18,572,367 and the second group with an average net income of $18,647,640. Credit unions without DEI practices fared less well with an average net income of $15,410,234. "What this suggests is that through its goals and tracking, it can help the credit union leverage its DEI practices in a number of ways, which creates efficiencies," Roberson noted.
Filene made several changes to its DEI Practices and Policies survey this year, the most notable being the addition of an Employee Experience Survey, an optional survey that participating credit unions could distribute internally to get the employee perspective on the credit union's DEI efforts.
In a panel discussion during the second half of the webinar, Miguel Polanco, director of the Office of Minority and Women's Inclusion for the NCUA, said Filene's research is consistent with how the agency structures its credit union diversity self-assessment program, but went further by assessing performance results — something the NCUA's DEI assessment tool does not.
Polanco also spoke about the power of conducting formal DEI assessments, noting that 84 credit unions have participated in the Credit Union Diversity Self-Assessment for the past two consecutive years, all of which have recorded improvements of 3 to 5 percentage points in each DEI domain. explored in the second year assessment. "This suggests that evaluating how well you are doing reinforces the intention behind the practice," he said.