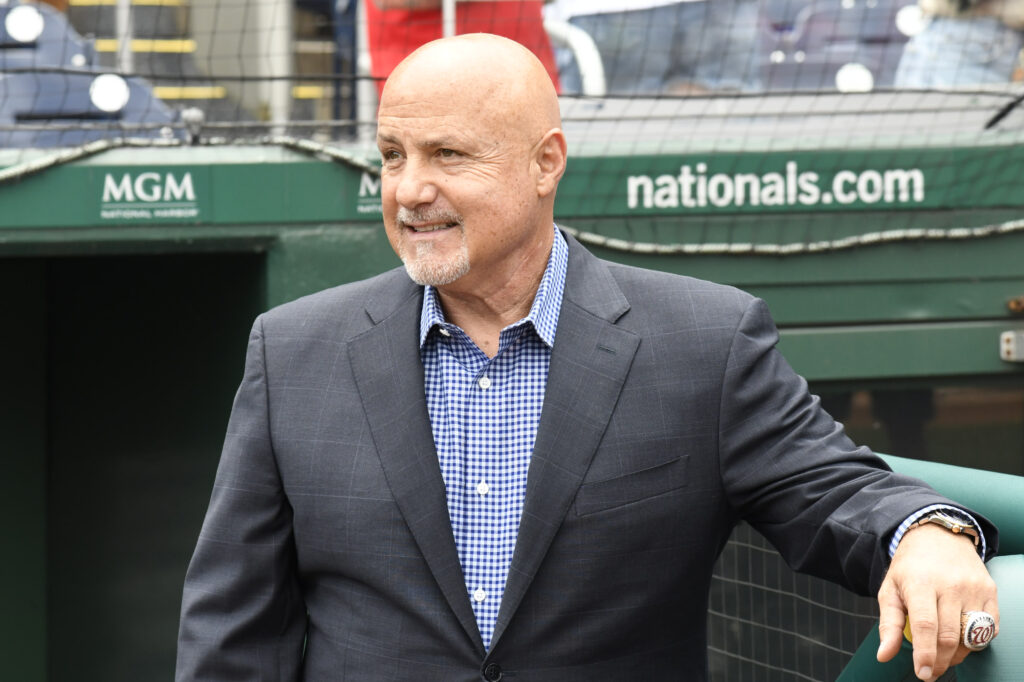 As a team that finished 55-107 in 2022 and faces an uncertain ownership picture, the Nationals are unlikely to buy big free agents this winter, but general manager Mike Rizzo said he will remain active for seek to improve the list. According to The Washington Post's Jesse Dougherty, Rizzo specifically mentioned rotation, as well as first, third and outside corner spots as positions he might be looking to add.
The rotation is no surprise, considering the Nats ranked 29th in ERA starting pitcher majors last season. Given that the team is still in the midst of rebuilding, they are more likely to seek out a cheap veteran or two to stabilize the rotation than make any splashy moves. To begin with, a few of the pivot points are already sewn. Veteran Patrick Corbin has struggled mightily lately, posting 5.82 and 6.31 ERAs over the past two years, but owes $24.4 million next season and then $35.4 million in 2024. Then, there is Stephane Strasbourg, who owes $140 million over the next four seasons, but has pitched just 31 1/3 innings over the past three seasons as he struggles to come back from a mountain of injury problems. It's possible there's a bad contract swap to be made, but it's more likely the Nationals will try to restore Strasbourg to health and see if they can both rebuild their worth in 2023.
Beyond those two, the team could look to fill the bottom three spots with youngsters Josiah Gray, Cade Cavalli and mackenzie gore, but that raises a lot of questions in itself. Gray gave up 38 homers in 148 2/3 innings in his rookie year after running through the Dodgers in the Max Scherzer OK. Cavalli had shoulder problems and Gore never pitched for the team after arriving in the Juan Soto treat due to inflammation of the elbow. All three have a lot of promise and will have plenty of opportunities in 2023, but it sure wouldn't hurt for the Nats to solidify things a bit by adding a veteran pitcher or two.
On the side of the player position, Keibert Ruiz, JC Abrams, Luis Garcia and Lane Thomas form a promising young core in the middle, so it's no surprise that it's the edges that Rizzo is looking to improve there.
In the infield, Carter Kieboom will be looking to bounce back from Tommy John surgery and claim the team's long-term third baseman title. Kieboom hasn't hit much in the big leagues, posting wRC+s of 18, 68 and 69 over his three seasons. Rebuilding the Nats gives him a bit more time to find his feet, and Rizzo has already stated he will have spring training to compete for the position. At first, the team will surely give the 30-year-old rookie Joey Meneses a chance to show off his surprise 2022 season was no accident. He hit .324/.367./.563 with 13 homers in 240 plate appearances, and while that sample size is still small, there's no real reason Washington wouldn't give him plenty of look in 2023.
washington has Luke Sees under control for 2023 as well, and there's a chance they'll use it with Meneses as their first base/DH division. However, Voit owes an umpire salary of $8.2 million per MLBTR contributor Matt Swartz predictions, and given that he was just around the league average last year (102 wRC+), the Nats may choose not to offer it and look for a cheaper alternative. Speculatively, perhaps a low cost bounce candidate such as Miguel Sano Where Jesus Aguilar could appeal.
Rizzo also mentioned outside corner spots as possible places to add. Thomas spent most of last year in right field with Victor Robles placement center. Robles is the top defenseman and Thomas is the top hitter, so there's every chance the roster will continue through 2023. Both are expected to earn modest officiating salaries ($2.1 million for Thomas, 2 $.5 million for Robles), but given Robles' struggles at the plate, there's a chance they'll trade him or not submit him and let Thomas take over at center, where he still is. more than enough. Waiver request Alex Call and veteran Yadiel Hernández hits well enough this season to suggest they'll be back, and maybe Washington will look to field them on the left.
Given all of that, there's definitely room for the Nationals to add another outfielder to the mix, and it wouldn't be surprising to see Call or Hernandez relegated to a bench spot. The Nats added Nelson Cruz on a $15 million deal last winter when they were far from contested, and while that particular move didn't pay off, it shows they're willing to put in some paycheck to players in hopes that they will turn into something. trade deadline. Again, speculatively, this might put people like Tommy Pham, Andrew McCutchen and Corey Dickerson on their radar, especially if they're still available later in the offseason.
Any change in ownership is sure to shape much of the conversation about what Rizzo can do in free agency. All he could offer about it was that they were told to continue "business as usual".