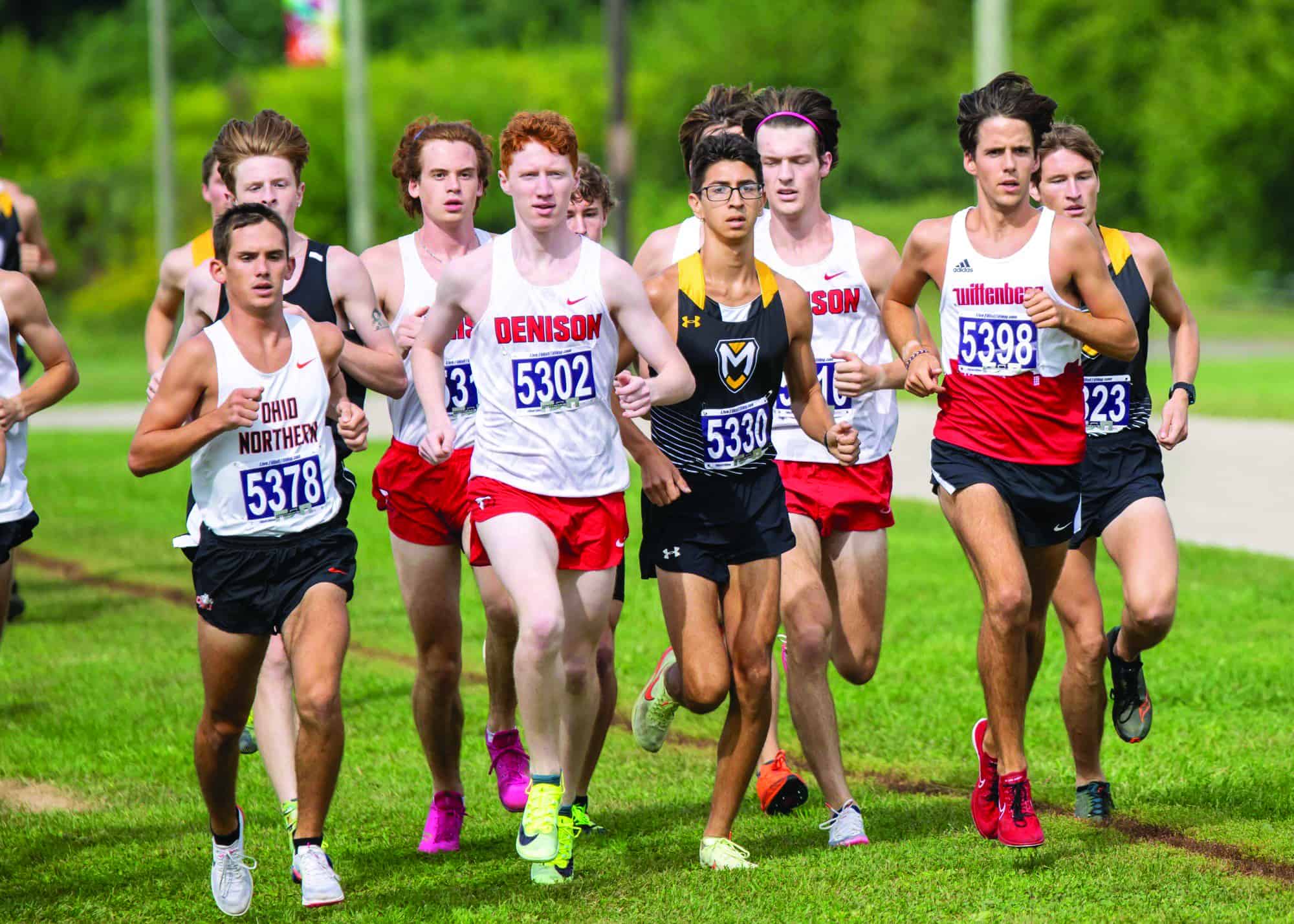 CHARLIE THOMPSON, Special for The Denisonian—
Lately, the Denison Men's Cross Country team has been on the rise. Having not finished in the conference's top three since the 1990s, Denison surprised everyone by finishing third behind two strong teams in Allegheny and DePauw at the North Coast Athletic Conference (NCAC) cross country meet. ) from last year.
Despite losing defending conference champion Keanan Ginell '22, Big Red Cross Country looks to be having a promising season with a core of young and experienced riders, with their first real challenge coming Sept. 10 at the University of Wittenberg.
Traveling to Wittenberg in Springfield, OH, Denison was more than prepared. Facing a tough encounter with many strong teams from the NCAC, Heartland Collegiate Athletic Conference and Ohio Athletic Conference, Big Red Cross Country was unshaken. Team captain Worth Hinshaw, a junior from Charlotte, North Carolina, explained how the team's summer training and pre-season camp helped strengthen and shape the team into a lean, nasty racing machine.
Said Hinshaw, "We're coming off a long summer of pretty high mileage, but we've had a really strong foundation from all that high volume. Team camp, we obviously got into some race prep stuff, we had more practices, two practices a day most days, and it was really great to see the fitness and the work of everything the world over the summer begin to bear fruit.
Head coach Mark FitzPatrick, who has led the team for the past eleven seasons, has pushed the team to its limits, while encouraging the team to take the time to treat their bodies properly.
"[Coach FitzPatrick's] the focus was on the little things, and always has been. You can do all the errands you want, you can do all the workouts you want, but if you're not focusing on your sleep, what you eat, what you put in your body, your recovery, then all this training is almost for nothing, and it may get you halfway there. That's what we've focused on a lot, capitalizing on small details that can make a huge difference for us," according to Hinshaw.
Clearly, this has paid off for the team, as many team members are running at near-optimal levels only two weeks into the season. Having competed at Wooster in a friendly race, Denison had a tight group of finishers, with four riders finishing in the top twenty, just seconds apart.
However, no better example of this hard work was the outstanding performance of second Tomás Brockett-Delgado on the Wittenberg course.
After setting a personal best 8 kilometer run of 28:17.9 in the NCAC Conference meet last season, Brockett-Delgado shaved well over a minute in his second comeback race, finishing fourteenth overall and second on the team with a time of 27:01.3.
Sophomore Nathan Bertman, the team's top runner, also finished well, clocking a personal best 26:35.3 for fourth place, just seconds behind Manchester University's Enrique Salazar. , Conor Kolka of Wittenberg and Stephen Faltay of Northern Ohio. Speaking briefly about the race,
Coach FitzPatrick praised the team for sticking to their group race strategy, as well as the performances of Brockett-Delgado and Bertman.
"We established a good position and pack at the start of the race which allowed us to execute our strategy for the competition. Our top seven riders rode very well, especially Nate's fourth place and Tomas' breakthrough," said FitzPatrick.
As for the rest of the season, Big Red Cross Country knows they have challengers looking to not only fill the spot left by Allegheny, but also beat longtime conference titan DePauw. Hinshaw, looking to set the tone for a young and incredibly competitive team, says the goal has always been to beat DePauw. However, he is aware that might not come this year.
"I think [Coach FitzPatrick] knows that [winning conference] is a possibility and I think we all believe in it, we're all looking at it, but we also see it as a two-year goal. We don't have any seniors this year, so whatever we do this year, our goal is to improve next year," Hinshaw explained.
There's no room for error this season, but backed by a powerful base of veteran riders, complemented by stellar rookies, Big Red Cross Country is confident, calm and collected. The team races again in a double meet against Wooster on Thursday, September 22 at Denison's own course.
Similar Items