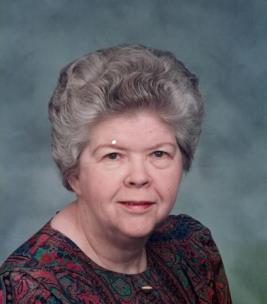 Ernestine Winters, 88, of Rossville passed away on Friday, July 8, 2022.
Mrs. Winters had lived most of her life in the East Ridge and Rossville area. She was a member of East Ridge Baptist Church and Tennessee Order of the Eastern Star Chapter 431. Ms. Winters has spent most of her career at Combustion Federal Credit Union. She also worked with the Times Credit Union and was an information specialist with the Tennessee Credit Union League, retiring in 1993. Ms. Winters was very fond of her family, she loved ballroom dancing and she loved to sew.
She was predeceased by her husband, Lee Winters; parents, Austin and Pearl Parkerson; six sisters; and a brother.
Survivors include her children, Lee (Connie) Winters and Judy (ML) Maynor; three grandchildren, Stephanie (Neil) Harvey, Melanie Maynor and Emily (Todd) Sturdivant; four great-grandchildren, Luke and Erin Harvey and Emma and Jackson Sturdivant; and several nieces and nephews.
Condolences can be shared with the family at www.lane-southcrestchapel.com.
Funeral services will be held Tuesday, July 12 at 1 p.m. at the Ebenezer Baptist Church Cemetery in Bryant, Al.
Arrangements are being made by the South Crest Chapel of Lane Funeral Home and Crematory, Rossville.