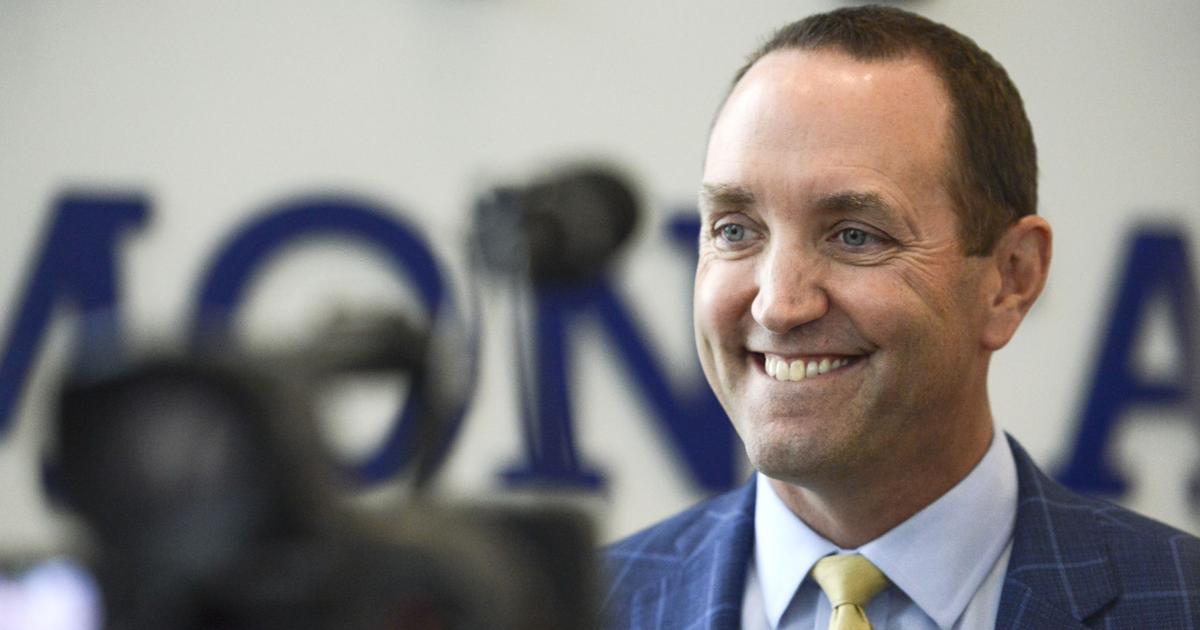 BILLINGS – As Montana State athletic director Leon Costello has always had his eyes on the prize.
Hired at MSU in May 2016, the former Iowan and South Dakota State subordinate inherited a department desperate to improve its athletic facilities and determined to continue its upward trajectory on the grill.
During his introductory press conference, Costello released this proclamation:
"We're going to win, we're going to win big, we're going to win championships."
But last January, the football program was at a crossroads.
Jeff Choate, the Bobcats coach for the previous four seasons, had left for a high profile and lucrative assistant coach job at the University of Texas. Just weeks before, Choate had been sacked from the senior position at Boise State and would remain at Bozeman for the foreseeable future.
Or that's what it seemed.
The sudden change prompted Costello and Co. on an unexpected coaching search that lasted nearly three weeks.
"Obviously, with Coach Choate making his decision, trying to find the right guy to take us to the next level gives you a little bit of pressure, if not a lot of pressure," said Costello.
It was a sticky situation: MSU had to find a replacement to take what Choate and his team had built up, culminating in a playoff semi-final appearance in 2019, and push it over the top.
Enter Brent Vigen, former Wyoming offensive coordinator and longtime assistant in his North Dakota state alma mater, where he played a role in three of the Bison's eight FCS titles.
The perfect rental? It's certainly paid off so far.
Vigen has won 12 games – a record for a freshman MSU coach – and leads the Bobcats to their first national championship game in 37 years on Saturday in Frisco, Texas against his former NDSU buddies.
Costello introduced Vigen as MSU's football coach at a rally on February 16 in Bozeman. One of the things Vigen said at the rally turned out to be prophetic.
"I know the roadmap," he said.
Costello had its own roadmap, and in 2021 two big events happened: MSU unveiled a new 40,000 square foot sports complex at the northwest end of Bobcat Stadium. Then the football team won nine regular season games, earned three straight playoff victories over the arms and legs of a freshman quarterback named Tommy Mellott, and came on the dawn of a long national title.
The past 12 months couldn't have been much more of a whirlwind. And they probably couldn't have done better.
"Looking back on last year, this is something we were hoping we could do, find the coach and the leader who could put everything in place to get us to Frisco, especially with the squad we had back. , the senior leadership that we had on this team and the coaches that were still there, "said Costello.
"And to do it the same year that we opened the new facility, to see it all come to fruition is really rewarding," said Costello.
Costello admits he was hopeful he could keep his promise to improve the facilities, and he knows he can't rest because there is still a long way to go. MSU's strategic plan continues to include an indoor structure for football and other sports, as well as further improvements to the Bobcat Stadium and the Brick Breeden Stadium.
This anxiety was also present during the search for Choate's replacement. Any athletic director will tell you that he is judged largely on the coaches he hires, fair or not.
Now that the Bobcats are tied for the FCS title game, a similar sentiment is in the air.
"This year has been so long in some ways," Costello said. "But then you head into that – going to the national championship for the first time in 37 years. There are also a lot of emotions and anxiety that go with it.
There is only one thing left for the Bobcats to accomplish this season on the football field: bring down the mighty state of North Dakota and plant their flag atop the FCS summit.
Costello noted the many people behind the scenes in the sports department who helped move MSU forward, but he also gives Vigen great credit for bringing a team that were already ready for this moment to the edge of a championship.
"I was just pleasantly surprised by his leadership and mentorship to assistant coaches and student-athletes. And his poise. Nothing makes it go up too high, nothing makes it go down too low. He's very balanced, and I think that's a great trait when you're dealing with players who have such aspirations and are trying to win championships, "said Costello.
"A lot of things were thrown at him as a head coach for the first time, and the way he has run his business has been very impressive.
"I can't wait to go to Frisco and see if we can't tie a knot at the end of a storybook."
Costello always has its eyes on the price.